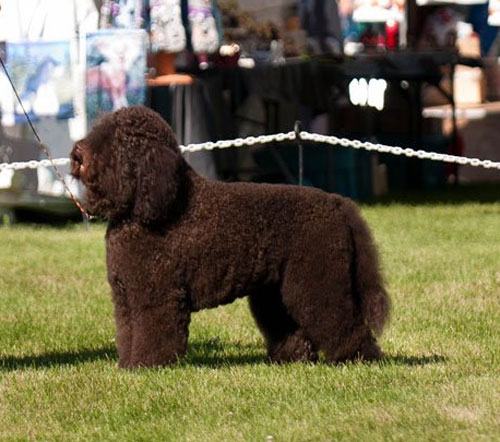 Pictured at 3 years old
Born: April 26, 2008
Breeder: Renee Corriveau / Michel Raymond
Owner: Janet Black Evans
Darwin was the seventh puppy in the second litter of Ugotitall.  He was a surprise as six puppies were expected.  Seven truly is my lucky number.  This beautiful boy was meant to be in my life.
His mom, CH FCC, CH CA Ugotitall de la Perte Aux Loups TAN, was the first Barbet Champion in Canada.   And Darwin has gone on to do her, and his breeders proud.  Darwin became a Canadian Champion before his first birthday, acquiring five of those points in a two day show at seven months.  In 2009 he was the number one Barbet in Canada, a year in which he earned the most group wins for a Barbet in Canadian history.   In 2010 he repeated this feat with even more group wins than the year before. 
Not only would he repeat the ranking of #1 for a third year in a row but better it. On July 17, 2011 in Kars, Ontario Darwin became the first Barbet to go Best in Show at a CKC show.  History was made twice that day as with that win he became a Grand Champion.
He is a lovely gentle boy who loves to give you those big Barbet hugs.